With their first season back in the Blue Square South in the books, having finished a very respectable 12th it was time to crack on and get ready for season 2. There of course were questions raised, such as would the Gulls suffer from
2nd Season Syndrome
...
Pre Season
Pre Season is a time that is traditional used to play friendlies as well as bring in new players...
Canvey Island arranged a number of friendlies for the upcoming season, their opening game was at home against Leeds Utd...
| | | |
| --- | --- | --- |
| Canvey Island | | Leeds Utd |
| Kingstonian | | Canvey Island |
| Wealdstone | | Canvey Island |
| Aylesbury Utd | | Canvey Island |
| Concord Rangers | | Canvey Island |
| Canvey Island | | Ebbsfleet |
| Croydon | | Canvey Island |
| Hemel Hemptstead | | Canvey Island |
| Bedford | | Canvey Island |
| Ringmer | | Canvey Island |
A very run of results in the pre season for the Gulls, keeping no fewer than 6 clean sheets and only losing 2 games. One of which was their opening game against the might of Leeds Utd, eventually losing 3-1 after a very spirited display.
Some Players who stood out in Pre Season:
As with his first season in charge,
Ray Walsh
set about making a number of changes to his playing staff. With a great number of players leaving the club as well as a number of new signings been brought into the side. Among the the new signings here are some of the more notable new comers:
George Wickings (Former Leyton Orient striker,with 4 appearances in the football league)
Tom Williams (Former Liverpool Trainee, Left Winger with No Senior Appereances Yet)
Josh Knight (Former West Brom, Port Talbot & Aberaman Striker)
As well as new players joining the club, a number of players also left the club, with 28 players leaving, here are the most notable players who exited the club:
Although Dominic Marshall's contract expired, he decided to remain at the club on a rolling contract. The squad now had no player remaining players of the previous regime, all the players were Ray Walsh's players now so any under performance could not blamed on anybody but Walsh...
Season Proper
Going in the season, Canvey Island were set to compete in three competitions, The Blue Square South (BSS), FA Cup & FA Trophy. They were expected to stay clear of relegation, enjoy their experience in the FA Trophy and reach the 3rd
Qualification
Round of the FA Cup...
Setting into their 2 second season under Walsh, there was a sense of cautious optimism about the season ahead after Walsh's men confronted the media last season.
As the Gulls opened their campaign against local rivals Chelmsford, with a
2-0
victory. The Gulls then continued in a similar vein going undefeated in their opening 10 league games. This unbeaten run, combined with a 2 game run at the tail end of last season lead to a new Canvey Island
record of 12 consecutive league games unbeaten.
This unbeaten run also moved Canvey Island to the
top of the league
after 10 games played.
Max Wright
was top scorer with 8 goals,
Cameron Quinn
continued on from his impressive breakthrough last season by contributing 4 goals. Also during this period, the Gull's suffered from a number of defensive injuries, with Captain
Gavin Cowen
missing 5 weeks. This injury lead to the signing of former Crystal Palace trainee,
Connor Dymond
.
At the half way point of their campaign, the Gulls were still sitting
top of the pile
, but their unbeaten run had come to an end, at the hands of Sutton Utd in a
1-0
defeat. But not before it was extended to 16 games. They also went 5 games without a league win, but in spite of this blip the Gulls
never relinquished top spot
. With 45 points already earned this season, Canvey Island were edging ever closer to reaching the 50 points mark which would pretty much guarantee safety. During this run
Max Wright
only managed to score 2 goals, but was still top scorer on 10 goals for the season. The Gull's were hit with yet another defensive injury,
Callum Adebiyi
torn a calf muscle and missed the last 10 league games.
| | | |
| --- | --- | --- |
| Canvey Island | | Chelmsford |
| Welling | | Canvey Island |
| Canvey Island | | Dartford |
| Truro | | Canvey Island |
| Canvey Island | | Tooting & Mitcham |
| Cambridge City | | Canvey Island |
| Canvey Island | | Maidenhead |
| Basingstoke | | Canvey Island |
| Canvey Island | | Bath |
| Bishop Stortford | | Canvey Island |
| Canvey Island | | Tonbridge |
| Staines | | Canvey Island |
| Canvey Island | | Farnborough |
| St Albans | | Canvey Island |
| Canvey Island | | Sutton Utd |
| Lewes | | Canvey Island |
| Canvey Island | | Boreham Wood |
| Eastleigh | | Canvey Island |
| Gloucester | | Canvey Island |
| Canvey Island | | Worcester |
| Dover | | Canvey Island |
With just 10 games to go until the season ends. The Gulls were still
sitting atop of the table
, on 62 points and 5 points ahead of 2nd place Dartford. In their last 11 games the Gulls went through an indifferent patch of form losing 4 games, with 2 draws and 5 wins. During this run,
Max Wright
remained top scorer on 14 goals. Also during this run, former Arsenal player
Daniel Boateng
was brought in to shore up their defence; putting in a good run of games with an average rating 7.03 after 7 games.
As the season came to a close, the Gull's were engulfed in a battle for the title and promotion. Putting together a good run of form, with only one defeat in their last 8 games.
| | | |
| --- | --- | --- |
| Tonbridge | | Canvey Island |
| Farnborough | | Canvey Island |
| Canvey Island | | St Albans |
| Sutton Utd | | Canvey Island |
| Canvey Island | | Lewes |
| Boreham Wood | | Canvey Island |
| Canvey Island | | Eastleigh |
| Canvey Island | | Gloucester |
With just two games to go in the league, the Gull's were
still seating atop of the table and 2 points clear of 2nd place Chelmsford.
The Gull's remaining two games against Worcester & Dover, winning both of these game would ensure promotion and a league title. But Chelmsford remaining two games were against Lewes & Boreham Wood.
The Gull's failed to win their game against Worcester, only drawing the game
1-1
, while Chelmsford recorded a
4-1
victory over Lewes. This sequence of results lead to Chelmsford dislodging Canvey Island at the top of the table by goal difference. This was the first time Canvey Island had surrendered the top spot since the 3rd week of the season. So heading into the last game of the season, Canvey Island needed to win by a large margin, or else hope that Chelmsford fail to win. As the final day of the season got under way, with both sides playing their biggest games of their season. Both sides went into half time in their games both still level at 0-0, but then disaster struck, as Chelmsford striker Brian Wake hit a hat trick...Canvey Island's season was now all but over. Chelmsford won their game
4-1
in the end, with the Gull's season ending in a whimper with a
1-1
draw against Dover.
After being top of the table for the vast majority season, failure to win enough games in the final stretch of the season ultimately lead to the Gull's losing out in their pursuit for promotion and a title. So the playoff's were next up for the Gull's, being drawn against Tonbridge. The Gull's were to play the first leg away from home...
| | | |
| --- | --- | --- |
| Tonbridge | | Canvey Island |
| Canvey Island | | Tonbridge |
A very disappointing season at the very end. A season that started very strong and with high hopes ended with great disappointment and ended with two abject performances in the playoff.
With the season in the books, a great deal of positives can be taken from the season as a whole. But the end of the season will leave a bitter taste, as they were so close to promotion and a league title, only for it to be thrown away but failing to get enough wins in the final stretch...
Final League Table & Position Graph: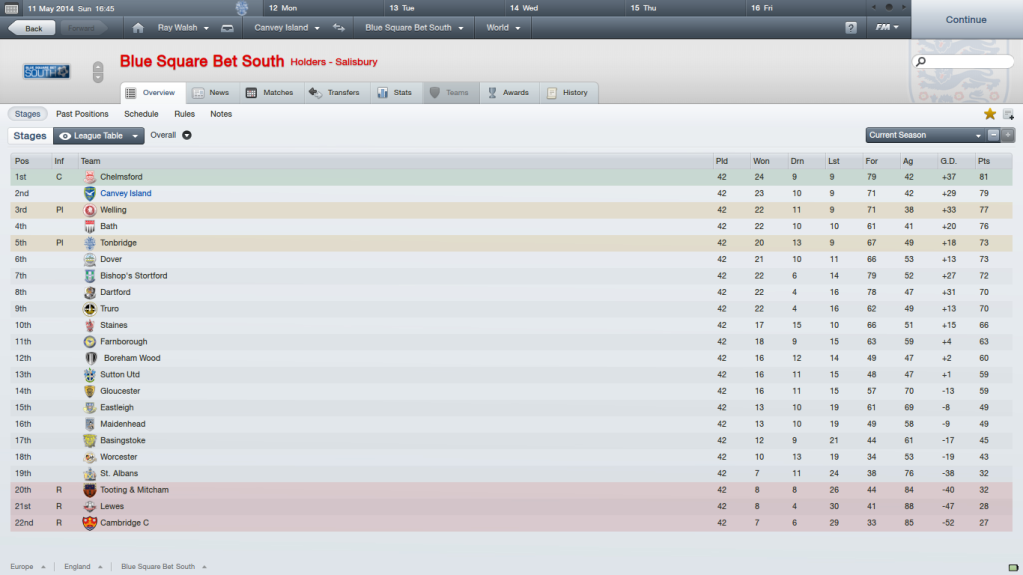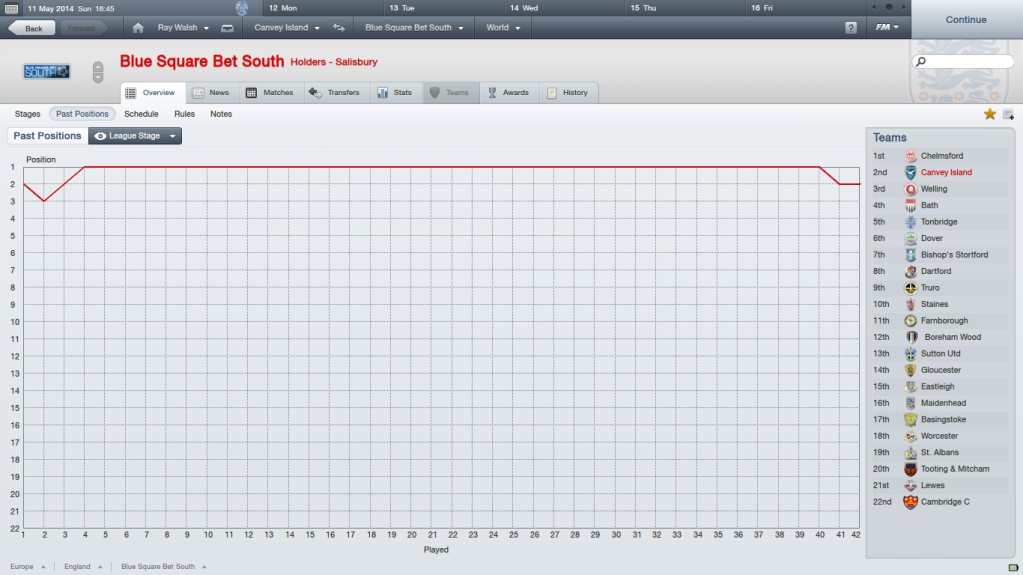 Top League Scorer:
Max Wright
(21 Goals)
Top League Assists:
George Wickings
(9 Assists)
Most League MoM:
Max Wright
(5 MoM)
Top League Average Rating:
Max Wright
(7.08)
The FA Cup
Board Expectation: Reach 3rd Qualification Round
Best Performance: 3rd Round(2001)
English football's most storied competition, a competition were small and big football clubs alike dare to dream. A cup that is best remembered for the upsets more than the eventual winners on great number of occasions.
But for a club of the stature of Canvey Island to win it, that would be a real life fairytale, but the dream of being a giant killing is always a real possibility. Coming into the competition at the 2nd Qualification Round, the Gull's were drawn at home against fellow BSS outfit Welling. Canvey Island & The Gull's played out a scoreless draw
0-0
. So the game went to a replay; After taking the leading to go 1-0 up, Canvey Island then surrendered the lead to fall behind 2-1. But pulled in back to 2-2, before conceded an 86 minute goal losing
3-2
and crashing out of the competition at the same point for the second year running...
The board were understandable upset at being knocked out of the cup, but understood, that it was a though draw at such an early stage of the season.
The FA Trophy
Board Expectation: Enjoy Experience
Best Performance: Winners 2001
Having reached the 2nd round in last year competition, a similar performance may well have been expected by the Gull's. This season's competition got off to a good start, with the Gull's being drawn at home against Isthman Premier outfit Hastings Utd, eventually running out
2-0
winners. With the Gull's into 1st round, their ambitions were dealt a blow when the draw was made, as it paired Blue Square Premier outfit Forest Green against Canvey Island. After a combative, gutsy performance the Gull's fell victim to an 85 minute Forest Green winner, with the game finishing
1-0
. This meant Canvey Island were out and failed to equal last season's performance in the competition.
End of Season Round Up
Overall Top Average Rating:
Rob Gier
(7.06)
Fans Player of the Year:
Max Wright
Team of the Year:
Season Highlight: Finishing 2nd & Opening the Season with a run of 14 games without defeat.
Season Lowlight: Losing both Legs of the Playoff Semi-Final
Miscellaneous
With the club having recorded a loss of €70,000 in the previous season, they were a number of cut backs made, but the club still recorded a loss of €30,000. It was a move in the right direction, but there is still a long way to go. The club was also subject to a number of failed takeover bids during the season, one wonders did the financial standing of the club act as a stumbling block to the potential new owners?
On the field, Canvey had a good season overall, their performance in the league left a great number in the media red faced as the Gull's finished 2nd and were the BSS overachievers. Being dumbed out of the FA in the qualifying round wasn't ideal either, both in financial terms and their reputation within the English football pyramid.
A number of Key Players contracts are due to expire at season's end:
With the Gull's having come so close to promotion this season, it will be very interesting to see their approach in the transfer market in the coming off season. Does the club go out and spend more money on players wages in order to improve the squad with fresh faces, as well as fresh faces will the club be holding onto all the players who's contracts are to expire over the summer. Either way, next season should be a very interesting to witness, will the Gull's push on from this season and gain promotion or do they go backwards?
End of Season 2...