As the 2011/12 season drew to a close the Canvey Island(nicknamed the Gulls) fans were looking forward to playing in the Blue Square South next season after winning promotion. But as the new season drew closer, the fans and club were hit with a body blow as they struggled to appoint a new manager.
So after a long difficult summer, the Canvey Island board plucked a young Irish man out of obscurity, a man with no managerial experience by the name of
Ray Walsh
. His first task would be to assess his new squad and start to build for the upcoming season.
This would start with Pre Season...
Walsh's first task would be to evaluate his team and bring in any new players that he felt would improve his side's changes of competing in the league. This process would begin with looking in the transfer market and playing friendlies.
Walsh didn't waste any time in delving into the transfer market, bringing in a number of players on trail in order to get a better look at potential new signings. Eventually signing no fewer than 42 new players, here are a few of the most notable signings:
Aside from bringing in new players, a number of staff were brought in:
As well as delving into the transfer market, Canvey Island also player 9 friendly matches, opening their pre season with a money spinning visit of Premiership Blackburn...
| | | |
| --- | --- | --- |
| Canvey Island | | Blackburn Rovers |
| Great Wakering | | Canvey Island |
| Gedling | | Canvey Island |
| Workingham | | Canvey Island |
| Canvey Island | | Dulwich Hamlet |
| Canvey Island | | Tonbridge |
| Croydon | | Canvey Island |
| Hemel Hempstead | | Canvey Island |
| Canvey Island | | Braintree |
A pretty mixed pre season all in all...
Some players stood out in pre season...
A lot of positives were taken from pre season, but there were signs that it would be a difficult season ahead.
Going in the season, Canvey Island were set to compete in three competitions, The Blue Square South (BSS), FA Cup & FA Trophy. They were expected to battle against relegation in the league and enjoy their experience in both cup competitions...
Media Prediction: 22th
Board Expectation: Battle Against Relegation
As a newly promoted side, Canvey Island's first task would be to gather as many points in order to achieve survival, history would suggest 42 points would be enough to for a second season in the BSS.
Having opened the season with an impressive
2-1
victory at home against Maidenhead, the Gulls struggled to find consistency and goals. Over their next 5 games the Gulls only recorded 1 win & failed to score in 3 of those games. As The Gulls struggled to find the net
Max Wright
was among a number of striking options brought in, along with
Monday Awoyomi
,
Rob Wearne
&
Liam Hardy
(On Loan from Harrogate). At the other end of the field goalkeeper
Richard McKinney
had been playing poorly and was in danger of losing his place. So after 10 league games, the Gulls were lying
13th
in the table on 12 points, with
Max Wright
with 3 goals as the top scorer.
At the half way point of the campaign, the Gulls were still lying in
13th
place on 26 points, edging ever closer to the magical 42 points mark. After being very inconsistent in the early stages, the Gulls managed to put together a good run with 3 wins, in their previous 4 games, the most memorial victory was the
2-1
victory against 3rd place Chelmsford away from home. In this run of fixtures young keeper
Nick Draper
put together a good run of games and managed to dislodge the experienced
McKinney
.
Max Wright
continued to be the Gull's leading scorer with 5 goals, also contributed with 3 assists.
Chris McGroarty
also weighted in with 4 assists. There were also a number of players set to exit Park Lane;
Ben Knight(4 Apps, Ave 6.47) to Maidenhead - Free Transfer
Graeme Grant(4 Apps, Ave 6.27) to Culter - Free Transfer
Jon Voigt(7 Apps, 1 Goal, Ave 6.38) to Inverurie Loco Work - Free Transfer
Richard McKinney(11 Apps, 17 Conceded, 2 Clean Sheets, Ave 6.58) to Berwick - Free Transfer
With just 10 games to go, the Gull's found themselves on 40 points just 2 points short of their pre season target, lying in
14th
and 10 points above the drop zone survival was all but mathematically assured.
Max Wright
continued to be the Gull's brightest star scoring 10 goals. Youngster
Clive Makoni
started to show real promise, setting up 4 goals with an average rating of 6.74.
Oscar Threlkeld
a former Boltan trainee was brought in, in an attempt to strengthen the defence, putting in a solid debut in a
2-1
victory over Welling.
As the season came to a close, Canvey Island were confirmed of their BSS status for the following season, as they finish in
12th
place on 58 points. Their league finished was achieved as a result of an impressive run of form at the tail end of the season;
Salisbury

Canvey Island

Canvey Island

Eastleigh

Bishop Strotford

Canvey Island

Canvey Island

Farnborough

St. Albans

Canvey Island

Canvey Island

Sutton Utd

Hendon

Canvey Island

Canvey Island

Chelmsford

Canvey Island
Truro City

Weston-Super-Mare
Canvey Island
This run of games, also saw the emergence of an incredibly talented striker, by the name of
Cameron Quinn
. Making his debut against Bishop Strotford as a sub and making his first start against Sutton Utd.
Played a total of 8 games, scoring 5 goals.
On top of that, he also
became the youngest Canvey Island player to play a league game and also the youngest Canvey Island player to score in a league game
. But Cameron Quinn wasn't the only young player to come through,
Hugo Carter
made an appearance off the bench in the final game of the season, taking the
youngest player to play a league game record
away from Quinn.
Also during this period,
Alex Notman
&
Monday Awoyomi
left the club to Weston-Super-Mare & Hendon respectively.
With the league campaign in the books, it was a very good season for the Gull's on the pitch. Comfortable avoiding relegation, managing to bring through a few young players and certainly have put down a solid foundation for the coming years.
Final League Table & Position Graph: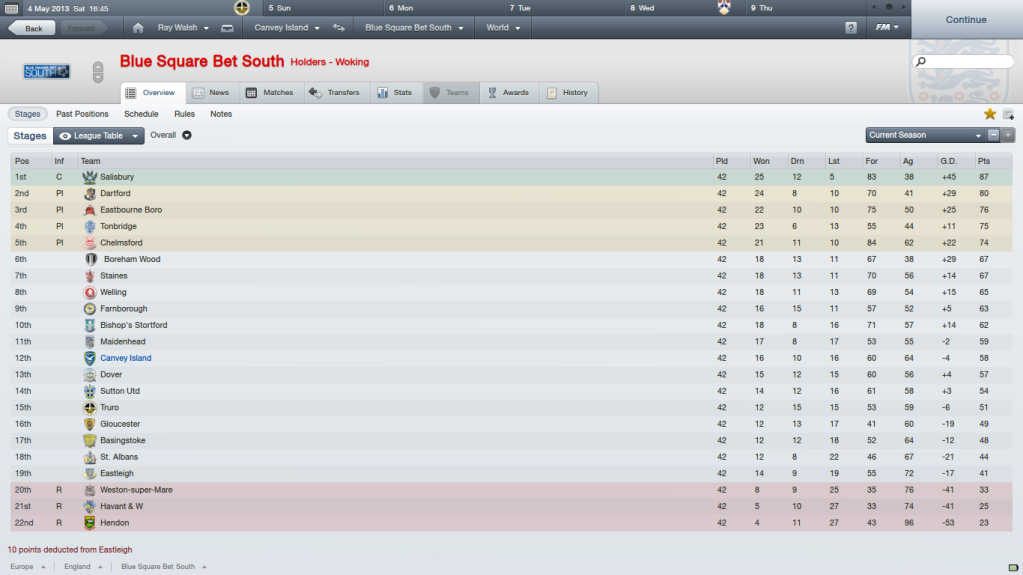 Top League Goal Scorer:
Max Wright
(18 Goals)
Top League Assist:
Andy McGrory
(8 Assists)
Most League MoM:
Max Wright
(5 MoM's)
Top League Average Rating:
Cameron Quinn
(7.49 / 8 Games) &
Max Wright
(7.23 / 33 Games)
The FA Cup
Board Expectation: Enjoy Experience
Best Performance: 3rd Round(2001)
English football's most storied competition, a competition were small and big football clubs alike dare to dream. A cup that is best remembered for the upsets more than the eventual winners on great number of occasions.
But for a club of the stature of Canvey Island to win it, that would be a real life fairytale, but the dream of being a giant killing is always a real possibility. Coming into the competition at the 2nd Qualification Round, the Gull's were drawn away against fellow BSS outfit Bishop Stortford. Canvey Island were overpowered by a strong Bishop Stortford side losing
2-0
. The dreams of a cup run, giant killing and glory had to put on hold for another year. The early exit from the competition wasn't ideal for the rookie manager, or for the club on a financial stand point.
The FA Trophy
Board Expectation: Enjoy Experience
Best Performance: Winners 2001


With the media suggesting that the Gull's would struggle to avoid relegation, nobody was expecting them to do anything is this years FA Trophy, despite Canvey Island having history in the competition winning it back in 2001. Starting in the 3rd Qualification Round, getting a home draw against Sutton Utd...
| | | | |
| --- | --- | --- | --- |
| 3rd Qualificaton Rnd | Canvey Island | | Sutton Utd |
| 1st Rnd | Canvey Island | | Hendon |
| 2nd Rnd | Canvey Island | | Gateshead |
| 2nd Rnd Replay | Gateshead | | Canvey Island |
A campaign ended at the hands of BSP outfit Gateshead, but things could have been so different. If Canvey Island hadn't missed a penalty in their first game against Gateshead...If that penalty had been scored who knows, Canvey Island could be the FA Trophy winners today.
Max Wright
was fantastic in the competition, playing in all 4 games and scoring 5 goals.
End of Season Round Up
Overall Appearance Maker:
Gavin Cowen
(43 Appearances)
Overall Top Scorer:
Max Wright
(23 Goals)
Overall Top Assists:
Andy McGrory
(9 Assists)
Overall Most MoM:
Max Wright
(6 MoM's)
Overall Top Average Rating:
Max Wright
(7.29 / 38 Games)
Fan's Player of the Year:
Dominic Plant
Team of the Year: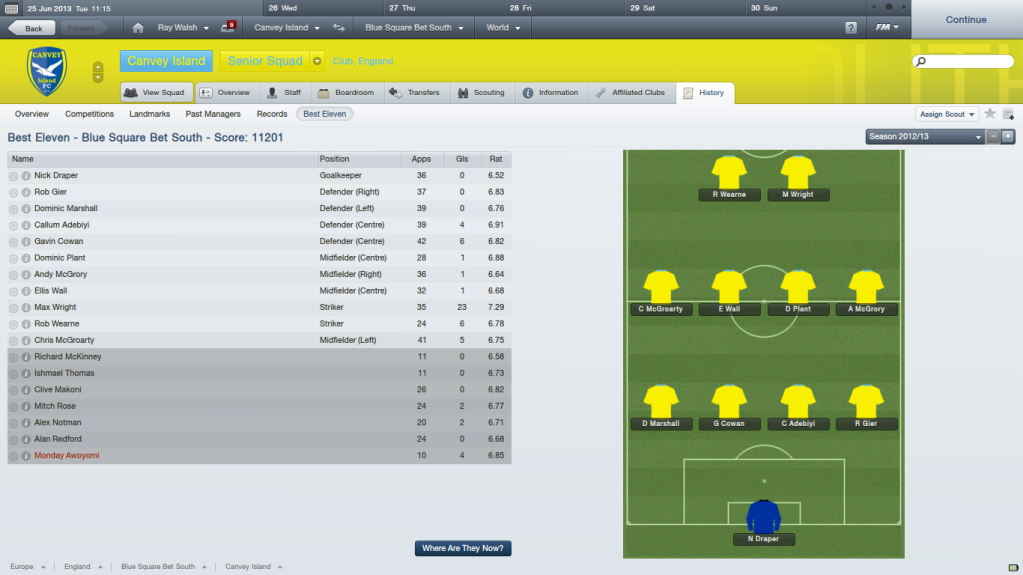 Season Highlight: Finishing Mid-Table (Defying the Odds)
Season Lowlight: Missed Penalty Against Gateshead in the FA Trophy
Miscellaneous
Financially the club had a poor season, recording a loss of €70,000. This loss represented 26% of turnover for the past season. With such loses, there will be concerns that the club may need to make cut backs in the off season.
A number of first team player's contracts are due to expire at season's end, such players as;
As the players, coaches and fans alike are on holidays; it promises to be another busy summer for football managers up and down England and around the world, and surely a very important one for Canvey Island. If the club wishes to build on the season gone, they will surely have to strengthen in a number of areas while retaining the majority of this seasons panel.
End of Season 1...